Barrel Blanks vs. Semi-Finished Barrels vs. Finished Barrels
Every rifle and pistol manufacturer in the firearm industry has a different approach to their OEM relationships. In-house machining capabilities, skilled labor availability, time-to-market needs, inventory management practices, and contract requirements may dictate which finishing operations are carried out in-house versus those that are serviced by an OEM barrel manufacturer.
While Vortakt has its roots in OEM barrel blank manufacturing, technological advancements in efficiency garnered through automation technology has led to more of our clientele opting to outsource finishing operations like contouring, chambering, threading, and incorporation of additional machined features is becoming increasingly common.

When Barrel Blanks are the Answer
Despite the recent trend of outsourcing finishing operations to our in-house production team, there are situations where ordering unfinished blanks can be advantageous.
Minimized Lead Time
By participating in Vortakt's Quick Ship and Air-Drop programs, you can receive batches of uncontoured barrel blanks with zero lead time. That's pretty tough to beat!
Lead times for uncontoured barrel blanks is typically significantly lower than finished barrels. There may be a considerable delivery benefit versus a contoured or semi-finished barrel design depending on turning cell bandwidth and market conditions.
Flexible Inventory
Many of our clients purchase barrel blanks in volume through a blanket purchase order with the intent of repurposing those blanks to accommodate fluctuating demand levels for different SKU's as the market changes. Having that added flexibility in repurposing barrel blank inventory can come in handy when the popularity of different product variants may be subject to change.
A good example could apply to an AR-15 manufacturer that offers a product line featuring 10.5", 12.5", 13.9", 14.5", 16", and 18" 1-8 twist .223 Wylde barrels. Rather than running six separate 100 pieces orders at each barrel length, additional cost savings can be incurred by consolidating the order into two separate 300-piece orders of 15" and 19" barrel blanks.

When Semi-finished Barrels are the Answer
Any number of finishing operations can be omitted or included once the barrel blank is rifled. Quite often OEM clients will have us include exterior profiling operations to eliminate redundant processes, as there is a nominal difference in cost between contoured barrel blanks and semi-finished barrels featuring machined features like threading, gas ports, extractor cuts, handguard retaining slots, and drilled indexing pin holes due to the "S3" Single Setup Solution capabilities offered by our automated turning cell, "The Profiler". 
Our engineering team commonly partners with clients to review finished part drawings to determine how to maximize production efficiencies with the end goal of streamlining the overall manufacturing process.
Pistol Barrels 
Semi-finished "Lollipops" are common for many of our pistol barrel clients, who intend to machine the lug geometry of their barrels in a 5-axis or similar mill. Vortakt can package and ship these barrels to allow for a seamless transition between our production processes and your in-house workflow. Clients have even optimized material handling of these lollipops from our crates with collaborative robots, automating the loading of their machining centers!
Proprietary Finishes and Surface Treatments
Oftentimes manufacturers prefer to add a surface or material treatment. Vortakt can leave blanks unfinished to allow the firearm manufacturer to apply their own treatments or finishes like chrome lining, salt bath nitriding, hardening, or DLC coating applied to the barrels at a later stage in production. Unique rifling geometry and chamber dimensions can be toleranced to accommodate these processes.

When Finished Barrels are the Answer
Many of our legacy barrel blank clients are surprised to discover that there can be significant cost savings and quality benefit to having Vortakt execute all finishing operations with one of our CNC mill/turn lathes. This single machine tool (and the Fanuc CRX cobot that supports it), effectively automates all finishing operations including contouring, threading, chambering, crowning, and gas port drilling.
Indexed Features
S3 Provides the additional benefit of precisely clocking different machined features or aligning them with bore and groove geometry. Consistently aligning these features can become increasingly difficult when they are machined in separate setups.
Internal Resource & Capability Limitations
Labor availability – Always a struggle in the manufacturing world.
Some manufacturers may not have sufficient available bandwidth, tooling, or internal expertise to facilitate in-house barrel production. Vortakt provides a depth of knowledge, capacity, and capability to effectively offset these limitations. 
Even manufacturers with the resources to produce barrels in-house may find value in outsourcing production. Opportunity costs tied to diverting resources from primary product lines or investment in new tooling for limited production runs might make outsourced manufacturing a viable solution.
Conclusion:
Whether you need barrel blanks, semi-finished barrels, or finished barrels produced by an OEM supplier, the choice is entirely yours based on your unique circumstances and business goals. We would welcome the opportunity to provide quotes and lead time estimates based on the prints and specifications provided.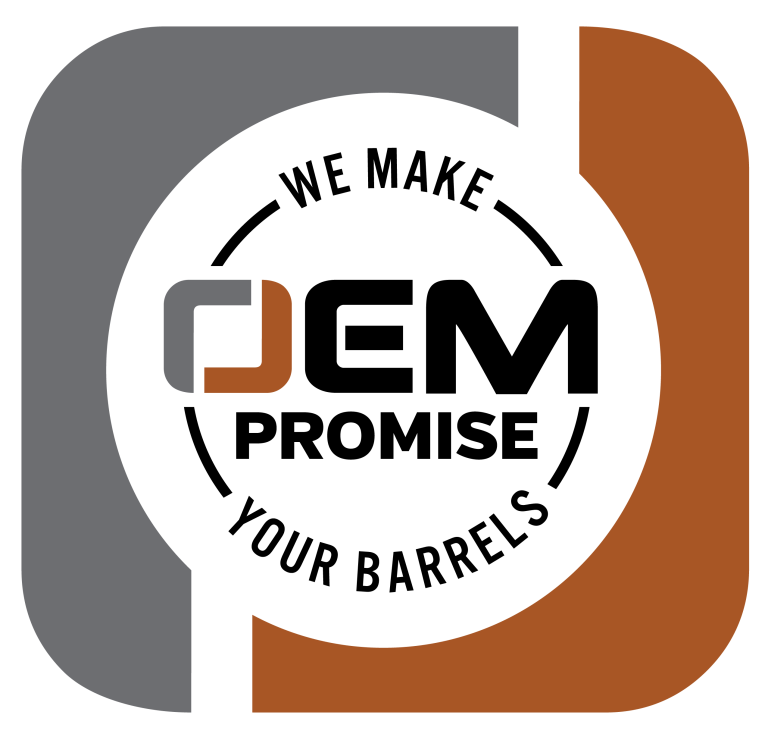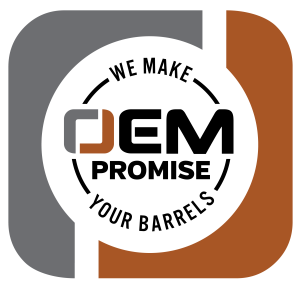 Our OEM Promise: We Make Your Barrels - Vortakt Barrel Works provides OEM rifle and pistol barrel manufacturing services to top brands across the firearm industry.
By effectively harnessing automation technology and adhering to engineering best practices, our team provides innovative partnership solutions based on your unique needs.