Precision Potential
Rifling Method
Production Time
Lapping Finish
Application
Cost
Precision Potential

Rifling Method

Button Rifled

Production Time

ApplicationDuty-Grade Firearms
Mil-Spec Performance
Basic Hunting Rifles

Cost
Precision Potential

Rifling Method

Button Rifled

Production Time

ApplicationPistol Barrels
Modern Sporting Rifles
Mid-line Hunting Rifles

Cost
Precision Potential

Rifling Method

Button Rifled

Production Time

Application3-Gun Rifles
Long Range Hunting
Entry Level Precision Rifles

Cost
Precision Potential

Rifling Method

Button Rifled

Production Time

Lapping Finish

Lead Lapped

ApplicationMatch-Grade Service Rifles
Long Range Competition
Premium Hunting Rifles

Cost
Precision Potential

Production Time

Lapping Finish

Lead Lapped

ApplicationF-Class and Benchrest
Luxury Hunting Rifles
PRS and ELR Competition

Cost
Leveraging Automation in High Volume OEM Barrel Production
Vortakt 100 Series OEM barrels are manufactured with automation and efficiency top of mind. Engineered to meet your unique tolerance specifications, our blank and barrel production machining techniques ensure you receive the most economical pricing available for a quality finished product.
By applying our expertise in the latest robotic and CNC technology, Vortakt can reduce cycle time, minimize labor costs, and optimize setup without skipping any of the essential barrel manufacturing processes. Whether you're ordering a few hundred blanks or tens of thousands of finished barrels, Vortakt Barrel Works provides built-in scalability to meet the requirements of even the largest rifle and pistol manufacturers.
Frequently Asked Questions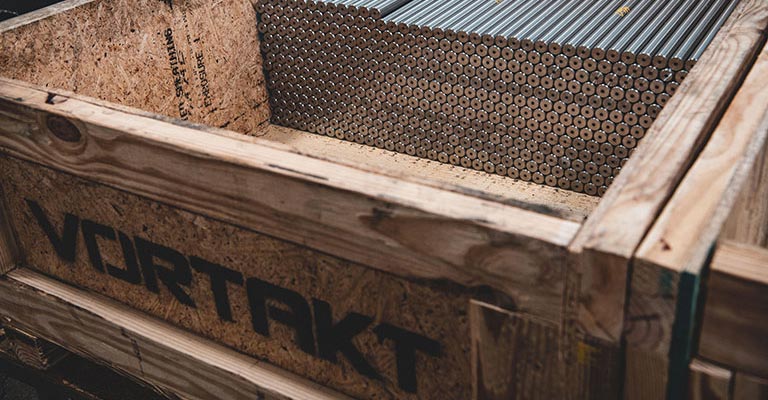 Blanket Order Program
Enjoy volume discounts and eliminate lead times with our Blanket Order Program. Vortakt currently schedules blanket orders up to six months long!
Learn More >
Our team is standing by to get your order into production. Contact us today to quote your next barrel order!