Precision Potential
Rifling Method
Production Time
Lapping Finish
Application
Cost
Precision Potential

Rifling Method

Button Rifled

Production Time

ApplicationDuty-Grade Firearms
Mil-Spec Performance
Basic Hunting Rifles

Cost
Precision Potential

Rifling Method

Button Rifled

Production Time

ApplicationPistol Barrels
Modern Sporting Rifles
Mid-line Hunting Rifles

Cost
Precision Potential

Rifling Method

Button Rifled

Production Time

Application3-Gun Rifles
Long Range Hunting
Entry Level Precision Rifles

Cost
Precision Potential

Rifling Method

Button Rifled

Production Time

Lapping Finish

Lead Lapped

ApplicationMatch-Grade Service Rifles
Long Range Competition
Premium Hunting Rifles

Cost
Precision Potential

Production Time

Lapping Finish

Lead Lapped

ApplicationF-Class and Benchrest
Luxury Hunting Rifles
PRS and ELR Competition

Cost
Setting the Standard for OEM Barrel Manufacturing
Our most popular product line, the Vortakt 200 Series leverages modern manufacturing technology like no other OEM barrel producer. These barrels strike the perfect balance between price and performance by combining the relentless efficiency of automation with the high-level performance offered by modern CNC technology.
An effective option for OEM projects of all sizes, 200 Series barrels can be manufactured in quantities ranging from 50 to 100,000+ pieces, maintaining a consistent specification level with each and every barrel. Setting the production standard for the entire Vortakt line, these barrels offer a solid mix of volume, price, and runtime.
Frequently Asked Questions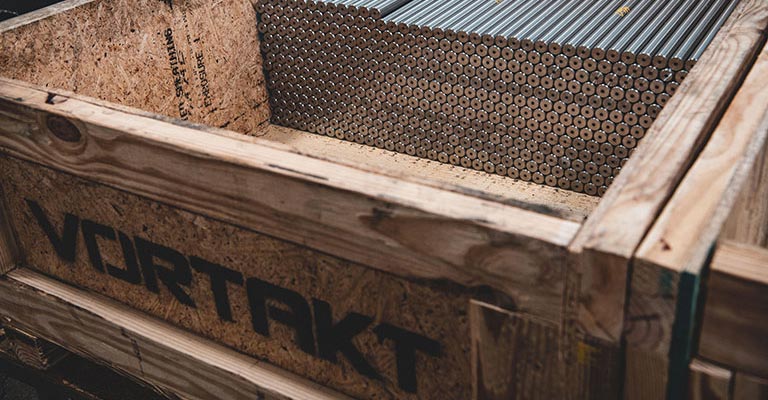 Blanket Order Program
Enjoy volume discounts and eliminate lead times with our Blanket Order Program. Vortakt currently schedules blanket orders up to six months long!
Learn More >
Our team is standing by to get your order into production. Contact us today to quote your next barrel order!