What are Pre-Fit Barrels?
The days of finish reaming chambers in a modern rifle production environment may soon be coming to an end. Advancements in CNC machining have provided rifle manufacturers with the ability to hold consistently tight tolerances on the bolt and receiver components, allowing barrel manufacturers to produce "pre-fit" barrels that headspace with each and every action that leaves the assembly line.

While many are familiar with the classic "Barrel Nut Pre-Fit", there is now an additional category of "Shouldered Pre-Fit" barrels that are rapidly gaining in popularity. That said, manufacturers leveraging pre-fit barrel technology isn't a recent phenomenon. In fact, they've been in common use for well over half a century!

What are Barrel Nut Pre-Fit Barrels?
Savage first popularized the pre-fit barrel in 1958 with the introduction of the Model 110 rifle design. The Savage barrel nut system features a threaded ring that sandwiches an indexed recoil lug between the barrel nut and receiver face.
Rather than featuring a machined shoulder, these barrels simply use a threaded tenon that screws directly into the receiver. The barrel nut is then tightened against the receiver, securing the barrel and achieving proper headspace.
Many other rifle manufacturers have introduced models featuring pre-fit barrel nuts, including the Remington 783 and Ruger American. The unique advantage of the barrel nut system is that these pre-fits can be easily swapped out by loosening the barrel nut to remove the old barrel and install a new one. This enhanced level of modularity allows shooters to easily replace their barrel or switch between different chamber options and barrel contours without requiring specialized tools or extensive gunsmithing expertise.

What are Shouldered Pre-Fits?
Shouldered pre-fit barrels are designed to be threaded directly into the receiver against a machined face or recoil lug. The shoulder, breech face, and chamber of the pre-fit barrel are all machined to a specific depth to facilitate consistent headspacing. Not all manufacturers can accomplish this, as the stacking of tolerances require certain features to be held to +/- 0.0005 in.
Assuming the action manufacturer can set their receiver's tenon length and bolt dimensions to a consistent standard, these barrels can be screwed directly into receiver without any finish chambering operations. One of the benefits of a shouldered pre-fit design is that the shank diameter can be sized to match the outside diameter of the receiver. Barrel nut pre-fit barrels are typically limited to an outside diameter that matches the outside thread diameter.
The removal of an additional threaded component reduces the number of variables at play when accurizing a rifle, also serving to improve rigidity. The increased wall thickness around the chamber not only adds strength in a critical location but helps reduce temperature gain during extended courses of fire.
Many rifle manufacturers offering "production class" rifle designs not only sell rifles with factory barrels installed, but also offer direct replacement options for shooters who burn out barrels on a regular basis. Some PRS competitors will cycle through 2-3 barrels in a single match season, so having that pre-fit capability built in provides plenty of efficiencies for both the rifle manufacturer and the end user!
What are the Best Pre-Fit Barrel Options from Vortakt Barrel Works?
Depending on the end consumer's desired barrel finish and accuracy requirements, Vortakt offers a range of barrel options from the Barrel Performance Series. The ideal rifling configuration is largely dependent on the rifle manufacturer's design criteria.

300 Series Pre-Fit Barrels
300 Series barrels deliver match-grade quality. Gundrilled and reamed at slower feeds and lapped to remove tooling marks, Series 300 barrels adhere to improved tolerance standards with straighter bores, a superior finish and improved accuracy, even at high production levels.
Most 300 Series manufacturers are seeking consistent sub 0.75 MOA performance at 100 yards for their factory rifles. Oftentimes these finished products are intended for use in long-range hunting or for entry-level precision rifle designs.

400 Series Pre-Fit Barrels
400 Series barrels offer the same match-grade quality as 300 Series barrels, with the additional step of lead lapping. This removes nearly all tooling marks, resulting in a premium surface finish and consistent bore and groove diameters.
These button-rifled barrels are often installed on premium hunting rifles featuring carbon fiber wraps, mounted on long-range precision rifle builds, or featured on rifle designs tailored specifically for competition.

500 Series Pre-Fit Barrels
500 Series barrels provide the ultimate level of performance and accuracy. Every 500 Series barrel is pre-lapped, single point cut rifled, and finish lapped. The end result is a stress-free barrel made with the tightest bore and groove diameter tolerances and uniformity.
While the difference in finish and performance is nominal between 400 and 500 Series barrels, single-point cut rifled barrels continue to remain popular in the ultra-precise disciplines of F-Class, Benchrest, and ELR competition.
Conclusion
While pre-fit barrels are nothing new, the trend in OEM barrel manufacturing toward shouldered and barrel nut pre-fit designs continues gaining traction. Vortakt supplies a wide range of manufacturers with 300, 400, and 500 Series pre-fit barrel designs based on the desired price point and the end-use application of the rifle in question.
Whether you're mass-producing bolt action rifles for big box retailers or delivering record-setting performance in world-class competition with custom action designs, Vortakt can provide pre-fit barrels designed to match your drawing specifications.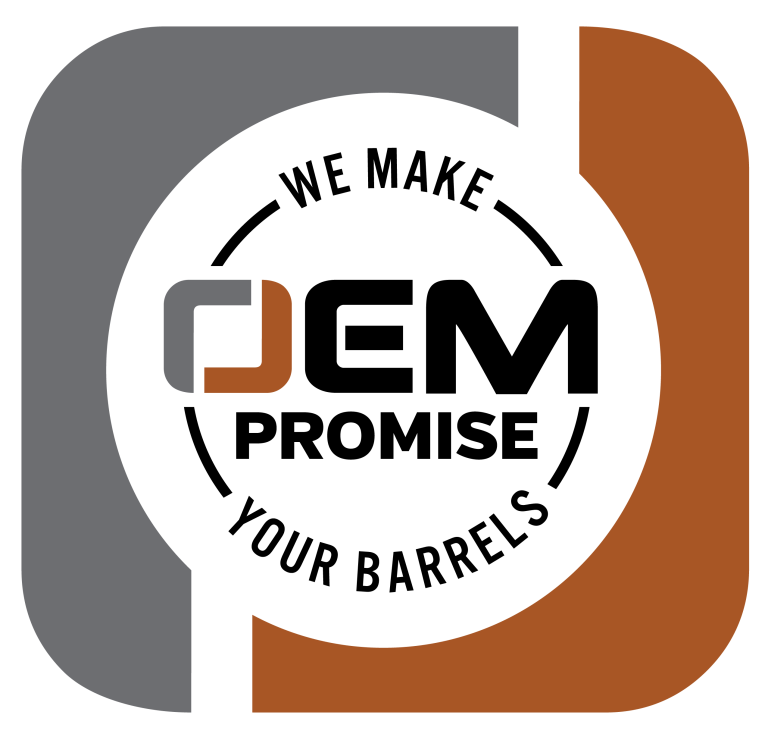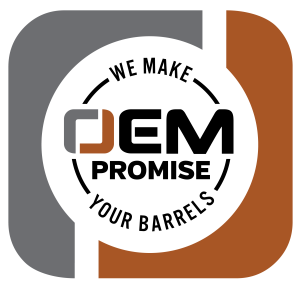 Our OEM Promise: We Make Your Barrels - Vortakt Barrel Works provides OEM rifle and pistol barrel manufacturing services to top brands across the firearm industry.
By effectively harnessing automation technology and adhering to engineering best practices, our team provides innovative partnership solutions based on your unique needs.